JLP returns to in-person orientation sessions in B.C-Yukon region
For the first time since February 2020, the week-long JLP orientation session for new facilitators was held in person, rather than virtually. Participants explored three of the in-person workshops offered by the JLP, Preventing Harassment and Violence in the Workplace, Understanding the Collective Agreement, and Respecting Differences / Anti-Discrimination.
"What an incredible experience! Never have I connected with a group of people so quickly. The facilitators were fantastic, knowledgeable, and fun. This week is forever etched in my heart."
Kelly Pagliocchini, AAFC (union)
The orientation session was also the first for two new JLP Program Officers, Kole Kilibarda and Catherine Lapierre-Ouellet, both of whom represent the union. They joined Nathalie Duquette, representing the employer. Regional Field Coordinators Aaron Billesberger (employer) and Michael Van Nen (union) were able to create a welcoming atmosphere for participants that created wonderful camaraderie within the group right from the start of the session.
"JLP has shown me that bonds can be made that go beyond the classroom. JLP facilitates not only learning but builds foundations of trust and unity."
Ish Singh, CSC (employer)
The orientation session's learning activities were based in experiential learning, and focused on the future facilitators' facilitation and communication skills. The JLP is delighted to be returning to in-person learning, and to welcome its new facilitators in the west!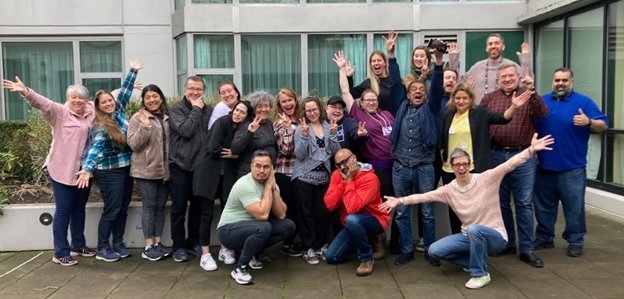 Front Row (Left to right): Michael Van Nen, Lawrence Prasad, Nathalie Duquette
Middle Row (Left to right): Tracy Zylyk, Melissa Gillespie, Reena Birk, Dean Gray, Kelly Pagliocchini, Krista Kenessey, Jennifer Barbe, Karmen Lynes, Talisa Boon, Laura Wildly, Kathleen Brophy, Mohammad Azad Qamar, Scot Gibson, Catherine Lapierre-Ouellet, Dennis Oliphant, Ish Singh
Back Row (Left to right): Christy Richards, Kelsey Hart, Kole Kilibarda
Not pictured: Aaron Billesberger