Strengthening ties with the Pension Centre in the Atlantic Region
On December 12, 2019, the Joint Learning Program, the Government Services Union and Public Service and Procurement Canada's Pension Centre held an event to recognize those who have made their partnership so successful, as well as a clinic for Pension Centre facilitators to hone their skills.
The recognition event highlighted the extraordinary contribution of facilitators and organizers who have been involved in the endeavour. Since the beginning of the partnership, the Pension Centre has held over 100 JLP workshops.
The Regional Field Coordinators (RFCs) also held a JLP Facilitator skills clinic for the Pension Centre facilitators. The clinic offered a review of the experiential learning approach and identified key elements of fostering positive group dynamics among participants in a workshop. Facilitators who attended had the opportunity to deepen and strengthen their facilitation skills and competencies. The group identified and analyzed a range of challenging workshop situations, and then had a chance to practice effective approaches and strategies for maintaining positive group dynamics.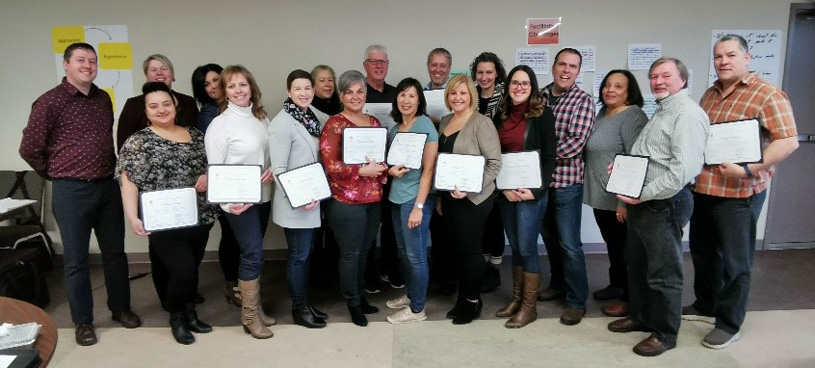 Front row: Natalie Doiron, Christine Larochelle, Krista Wallace, Monette Martin, Riza Espiridion-Doiron, Carole Doiron, Melanie Berube-Roy, Arthur MacKinnon
Back row: Marc Diotte (RFC), Wendy Léger, Leigh-Ann Ouellet, Monique Smalley, Greg Pidgeon, Marco Lagacé, Mélissa LeBLanc, Matthew Fields, Wanda Thomas (RFC), Patrick Peterson
Not pictured: Pierre Losier, Andréa Vautour, Marc Doucet, Charline Vautour, Sylvie Gallan