November 19, 2012
Upcoming Activities in November
Beside the 39 workshops already delivered or to be delivered, the upcoming activities in the Joint Learning Program in November are a participation to the Forum of the National Managers' Community Manitoba Region, on November 22 , in Winnipeg, an orientation session in Montreal from November 26 to 30 and a clinic in Mississauga on November 28.
Stay tuned to get more information about these activities.
Bargaining Agents
This is a reminder that following the last round of collective bargaining in 2011, the Joint Learning Program (JLP) is pleased to announce that all union members within the Core Public Administration are now eligible to participate in the JLP.
Atlantic Region Welcomes New Facilitators
The Joint Learning Program (JLP) Atlantic region hosted a facilitator orientation session that was held October 29 to November 2, 2012, at the Halifax Citadel National Historic Site of Canada. During this same week, JLP celebrated the milestone of delivering 2,000 workshops across Canada.
Employer and Union representative facilitators from all four Atlantic Provinces and two facilitators from the National Capital Region participated in this orientation session.Wanda Thomas and Angela Leger, Regional Field Coordinators, welcome the following individuals to the JLP team of facilitators: Shelley Adams, Karen Archibald, Andrea Belliveau, Bonnie Biggar, Angela Bissonnette, Claudette Brokenshire, Parker Courtney, Priscilla Giroux, Daniel Lefebvre, Justin Lord, Susan Manning, Dora Marrão, David Merrigan, Kristine Sharp, Darlene Tait, Jill Thomson, Peter Wright, and David Yeomans.
As JLP promotes the participation of members of all the bargaining agents within the Core Public Administration and their managers, the Atlantic region welcomes the first union facilitator from the Professional Institute of the Public Service of Canada.
Dana Bailey, Public Service Alliance of Canada Atlantic Director for Racially Visible Members, and Anne-Marie Leger, Executive Director of Nova Scotia Federal Council, came also to offered words of encouragement and support for the new facilitators and the JLP.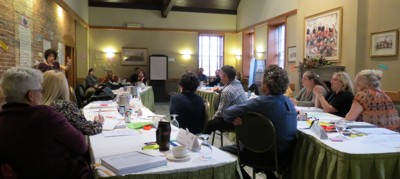 During the session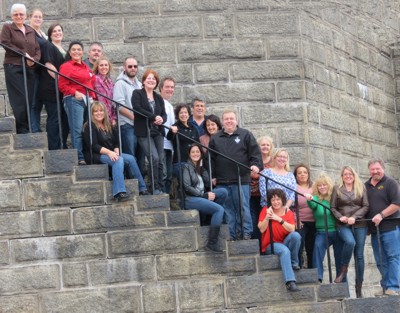 The participants
Memorandum of Understanding with the Canadian Association of Professional Employees
The Canadian Association of Professional Employees (CAPE) is the first bargaining agent to sign an agreement with the Joint Learning Program (JLP). The purpose of the Memorandum of Understanding is to promote the delivery of JLP workshops to all CAPE members and their managers.
Conference of the Newly Elected Local Representatives in the National Capital Region
The Joint Learning Program had a booth on November 2 as part of a regional conference for newly elected local officers in the National Capital Region which was organized by the Public Service Alliance of Canada. Forty participants attended, all occupying positions within their respective Locals for less than a year. These newly elected representatives showed a lot of interest in the Program.
Facilitator Refresher Clinic in the Prairies and Northwest Territories Region
Carol Casey and Judy Freeman, Prairies and Northwest Territories Regional Field Coordinators, congratulate Joint Learning Program facilitators on their participation in the region's first Refresher Clinic which took place on October 16-17, 2012 in Edmonton, Alberta.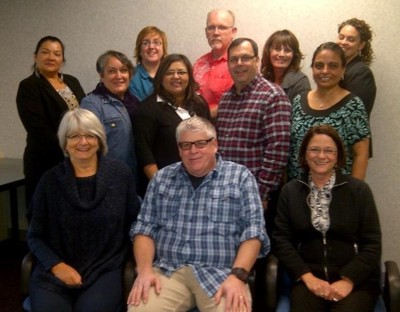 Pictured are facilitators: Sandra Ahenakew, Timothy Burchill,
Ian Cohen, Iqbal Grewal, Alec Goertzen, Bhupinder Dhaliwal-Johal, Jennifer Millar,
Lisa Richards, Mary-Lou Thevenot and Saskia Veltkamp.
National Day of Remembrance and Action on Violence Against Women on December 6
December 6 is the National Day of Remembrance and Action on Violence Against Women in Canada. Established in 1991 by the Parliament of Canada, this day marks the anniversary of the murders in 1989 of 14 young women at École polytechnique de Montréal. They died because they were women.
As well as commemorating the 14 young women whose lives ended in an act of gender-based violence that shocked the nation, December 6 represents an opportunity for Canadians to reflect on the phenomenon of violence against women in our society. It is also an opportunity to consider the women and girls for whom violence is a daily reality, and to remember those who have died as a result of gender-based violence. And finally, it is a day on which communities can consider concrete actions to eliminate all forms of violence against women and girls.
International Day of Persons with Disabilities
On December 3, 2012, the International Day of Persons with Disabilities will be commemorated around the world. The observance of this day serves to focus on issues related to the inclusion of persons with disabilities, both as beneficiaries and agents.
Persons with disabilities make up an estimated 15 percent of the world's population, and this day is our opportunity to recognize and celebrate their valuable contributions to all aspects of society.