August 30, 2011
The Joint Learning Program at the PSAC Atlantic Triennal Convention
Wanda Thomas and Angela Léger, the Joint Learning Program (JLP) Atlantic Regional Field Coordinators, would like to recognize the JLP Facilitator and Organizer presence at the Public Service Alliance of Canada (PSAC) Atlantic Triennial Convention held in St. John's, Newfoundland from June 23 to 26, 2011. There were over thirty JLP Facilitators who participated in this convention.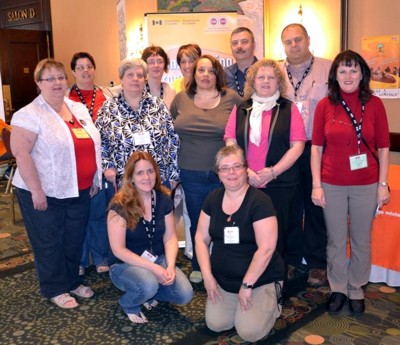 Among facilitators at the PSAC Atlantic Triennial Convention were
(from left to right and back to front) Melinda Scott, Stephanie Ehler,
Angela Léger, Keith Parsons, Jim Hondas, Donna Rodgers-Grouchy, Anne Little,
Wanda Thomas, Debi Buell, Anna Goguen, Beryl MacNeill and Sandy Harquail.