October 28, 2010
Message to Joint Learning Program Facilitators and Organizers
During the past few months we have been adopting practices in the Joint Learning Program (JLP) which are more environmentally friendly. As a result, effective November 1st 2010, the contents of the box which is currently shipped to every JLP workshop will be modified and sent in an envelope. The envelope will contain tent cards, participant certificates, promotional pamphlets, posters and a JLP "clip" which participants can use to assemble the documents they receive during the workshop. In addition, the envelope for Understanding the Collective Agreement workshops will also contain the "4-step" cards. As a result of these changes we will have significantly reduced the amount of paper distributed during our workshops and also reduced the weight of the materials we ship across the country. We appreciate your understanding during this transition and encourage you to contact the regional field coordinators in your region if you have any questions or concerns regarding this change. Thank you
---
Networking Breakfast in the National Capital Region
On September 23 2010, a networking breakfast was held for organizers and facilitators in the National Capital Region (NCR).The event, which was organized by the two NCR Regional Field Coordinators, Linda Iezzi and Alex Roussakis, was a big success. In all, 20 participants including both Joint Learning Program (JLP) Co-directors attended the breakfast.
At this event, Nathalie Audet, Tatiana Avoce, St. Clair Currie, Tom Fitzpatrick,Greg Frankson and Mercédes Sagesse were recognized for their contibution to the JLP in having facilitated five workshops. In the photos, they receive their award from Alex, on the left, and Linda, on the right.
| | |
| --- | --- |
| Nathalie Audet | Tatiana Avoce |
| St. Clair Currie | Tom Fitzpatrick |
| Greg Frankson | Mercédes Sagesse |
Linda and Alex took this opportunity to thank all organizers and facilitators for their dedication and support of the JLP.
This event fostered communication between organizers, facilitators and regional field coordinators namely on how to promote the JLP within departments. A 30 minute brainstorming session was held with the objective of developing strategies to promote the program within the participants respective workplaces.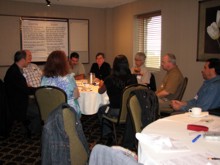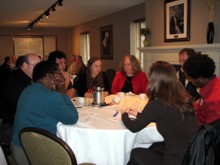 The brainstorming session