March 25, 2011
Message from the Ontario and Eastern Arctic Region on the 1,000th Workshop
On January 18, 2011, we hosted an Open House at 4900 Yonge Street in Toronto to celebrate the milestone of the Joint Learning Program (JLP) 1,000th workshop! We could not have achieved this milestone without the dedicated efforts of our facilitators, tireless planning efforts by our union and employer organizers and the participants who share their experiences with their fellow public servants and have helped spread the JLP message.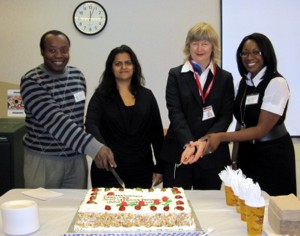 From left to right; Romeo Jackson, Sharon DeSouza, Christina Prozes
and Karen Alexander
To say thank you and to promote further interest in the JLP, we invited past organizers, participants, facilitators and employees are 4900 Yonge to join us for refreshments and learn more about the JLP. We were honoured to have Sharon DeSouza of the Public Service Alliance of Canada and Christina Prozes of the Ontario Federal Council on hand to assist with the cake cutting. Throughout the Open House, participants were able to mingle with JLP staff and bring back information to share with their union representatives, managers and fellow employees in hopes of helping more workplaces.