April 21, 2011
Joint Learning Program Atlantic Region Welcomes New Facilitators
Lynn Jones and Angela Léger, Joint Learning Program (JLP) Atlantic Regional Field Coordinators, welcome to the following new JLP facilitators: Isaac Armstrong, Shaun Benson, Meghan Churchill, Sarah Clift, Sheila Crotty, Alain Duguay, Heather Hannifan, Debbie Hines-Solsman, Deirdre Kulanek, Peter Marsman, Jeannine McNeil, Caroline Morais Gregan, Melissa Morash, Pam Rushton, Monique Thériault, and Roger Walsh.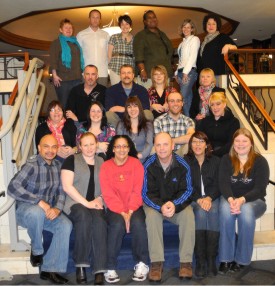 The Atlantic Region's Facilitator Orientation Session was held from April 11 to 15, 2011, in Halifax, Nova Scotia. Participation in this orientation session consisted of individuals from the following departments and Public Service Alliance of Canada (PSAC) components: Canada Border Services Agency, Correctional Services Canada, Department of Fisheries and Oceans, Department of National Defence, Indian and Northern Affairs Canada, Public Health Agency of Canada, Royal Canadian Mounted Police, Veterans Affairs Canada, Customs and Immigration Union, Government Services Union, National, Union of National Defence Employees, and Union of Solicitor General Employees.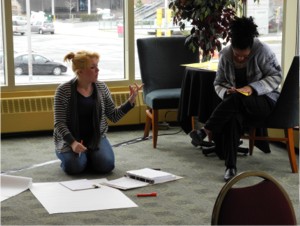 Sarah Clift and Heather Hannifan, a co-facilitation team,
preparing to deliver a learning activity.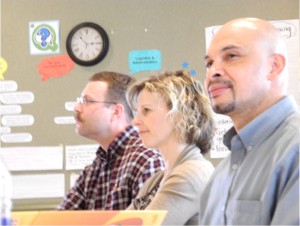 Alain Duguay, Monique Thériault and Peter Marsman
The JLP Atlantic Region wishes success to Geraldine Shears and Denis St-Onge, participants from Parks Canada and PSAC National component, respectively, as they deliver workshops within the Parks Canada JLP pilot.