The JLP welcomes new facilitators from coast to coast
From August 29 to September 2, 2022, eight new JLP facilitators and staff members participated in an orientation session hosted virtually on Zoom. Participants had the chance to experience the workshop kit: Anti-Racism: Let's Talk!
This session provided new JLP facilitators with practical skills to facilitate workshops or discussions on any JLP topic. While the whole group was getting ready for their upcoming facilitation experiences, the JLP also welcomed new staff members during this orientation session.
It is with enthusiasm that the group expressed their appreciation for the Program and the opportunity to contribute to healthier workplaces in the federal public service by facilitating JLP workshops or discussions.
Comments from participants included:
"Fabulous session, and I've already been able to use some of my skills in the workplace this week to de-escalate a conflict. I am so excited to take on this new learning and growth opportunity. Thank you for this beautiful opportunity!"
"What an amazing program and such a unique learning model. I love the approach of the experience is in the room. I love the concept that as facilitators we are agents of change for both the union and the employer in such meaningful areas of discussion. I am truly honored to be a part of the JLP team."
The session was co-facilitated by Nathalie Duquette (JLP Program Officer) and Terri-Lee Rayvals-Mele (JLP co-founder and retired PSAC employee), while Désirée Yaxley and Anne Roy provided invaluable technical support during the week.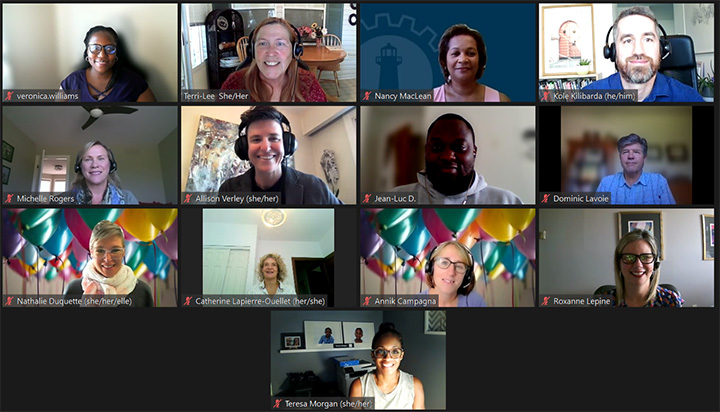 Top Row (L to R): Veronica Williams, Terri-Lee Rayvals-Mele, Nancy MacLean, Kole Kilibarda
Michelle Rogers, Allison Verley, Jean-Luc Ducamp, Dominic Lavoie
Nathalie Duquette, Catherine LaPierre-Ouellet, Annik Campagna (Regional Field Coordinator), Roxanne Lépine (Co-Director)
Teresa Morgan (Regional Field Coordinator)