Ontario-Nunavut Region Recognizes Facilitator milestones
On October 6, 2021, the Regional Field Coordinators (RFC) of the Ontario-Nunavut region recognized facilitators from their region who had achieved significant milestones in facilitation with the JLP. Ryan Winger (RFC Union) and Teresa Morgan (RFC Employer) honoured these facilitators in a virtual recognition event.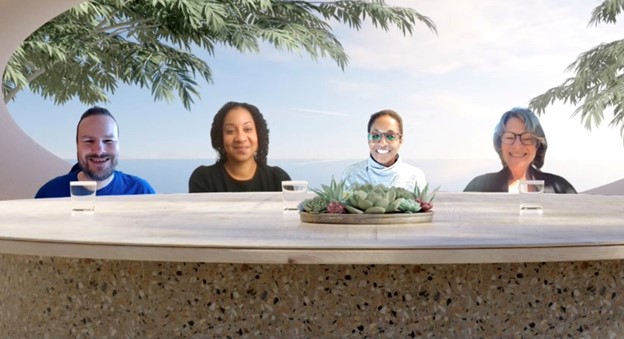 From left to right: Ryan Winger, Tiana Gayle, Teresa Morgan, Fran Cohen
Fran Cohen and Tiana Gayle were recognized for facilitating 50 sessions for the JLP. In addition, Tiana was given an award of distinction for her significant contribution above and beyond expectations.
The full list of facilitators recognized at the event
Facilitated 10 Learning Events
Anu Datta
Geraldine Donlin
Laura Geier Ennis
Erika Hamilton
Donna Huen
Mary Jeyananthan
Devinder Nijjar
Karen Page
Sarah Popkey
Marnie Spear
Jay Stoneman
Orsolya Szent-Imrey
Kimberly Wade
Facilitated 15 Learning Events
Herbert Alfaro
Sarah Barbisan
Jesslyn Bartman
Jack Botwinik
Lynn Dufresne
Marten Dykstra
D'Arcy Gauthier
Zahra Kotadia
Diane Levola
Gord Mitchell
Teresa Morgan
Karin Pennington
Tom Rowe
Paul Samson
Jacqueline Smith
Joseph Truman
Facilitated 25 Learning Events
Brian Benson
Heather Cruickshank
Stephanie Denis
Juanita Edwards
Nazmeena Ehsan
Valerie Fargey
Matt Gagner
Andréa Grant
Christine Haggar
Suzanne Hoffberg
Patricia Jurczynski
Jeffrey Kushner
Laurie Swinarton
Aaron MacGregor
Brenda MacKinnon
Alpar Molnar
Andrew Sromek
Valerie Sybbliss
Ryan Winger
Larisa Zhurakovskaya
Facilitated 50 Learning Events
Award of Distinction – presented to a facilitator who has gone above and beyond expectations
The JLP is deeply grateful to all of its facilitators who support the Program in delivering learning events, especially during the challenging times of the pandemic.