JLP welcomes new facilitators to the Program
"I was impressed with the course content, the fulsome material and most of all, the excellent delivery of this session."
From October 18 to 28, 2021, a new cohort of JLP facilitators from across the country experienced their JLP orientation session. Sixteen participants from the Prairies to the Atlantic region were guided by Program Officers Nathalie Duquette and Rachel Besharah. The Program Delivery Administrator, Désirée Yaxley, moderated the session.
The participants began the five-day journey by experiencing Anti-Racism: Let's Talk!, one of the guided discussions from the Empowering Conversations series. Their own facilitation exercises also centered around this popular and much-needed guided discussion. Two of the participants, Gina and Jessica, facilitated the graduation ceremony, which was also attended by a JLP Co-Director and the Regional Field Coordinators from the Atlantic, Ontario-Nunavut, National Capital and Prairies regions.
"A fantastic opportunity to learn by doing and build confidence through experience."
The JLP is pleased and proud to welcome the latest cohort of facilitators to its ranks!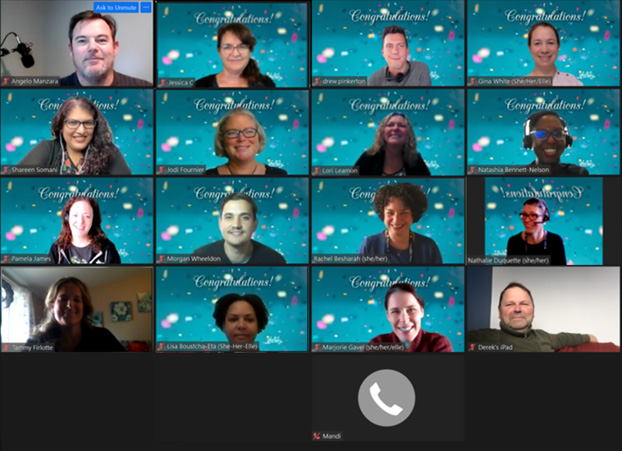 Row 1 (top): Angelo Manzara, Jessica Campbell, Drew Pinkerton, Gina White
Row 2: Shareen Somani, Jodi Fournier, Lori-Ann Leamon, Natashia Bennett-Nelson
Row 3: Pamela James, Morgan Wheeldon, Rachel Besharah, Nathalie Duquette
Row 4: Tammy Firlotte, Lisa Boustcha-Eta, Marjorie Gavel, Derek Spracklin
Row 5: Mandi Hutchinson (by phone)
Missing: Sarah Lounsbury