MARCH 8: INTERNATIONAL WOMEN'S DAY 2021
March 8, 2021 marks International Women's Day.
The pandemic has shed new light on both women's burdens and their contributions to the greater good. This year more than ever, each conversation we have about women's experiences in the workplace, in the home, or in society is another small battle in the bigger war against inequality.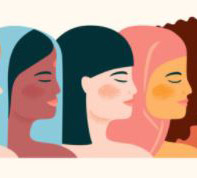 While the worldwide crisis of the past year has affected everyone, women have borne the brunt of many of the changes both at home and in the workplace.School closings, abrupt changes in working conditions, family loss and illness have all affected women disproportionately during pandemic times. Women in North America have seen the majority of job losses, either due to choosing to stay home because of changes in childcare, or from layoffs and closures. The stresses of school closures, of managing illness, change and uncertainty continue to take their toll.
And yet countless women have risen to meet the challenges faced on the home front and in the workplace. As healthcare professionals, leaders, caregivers and frontline workers, women have led, offered support, and fought for compassion and justice.
The JLP is committed to facilitating some of the difficult discussions made more urgent by the pandemic. Together, we recognize both the hardships and triumphs women have encountered over many years and especially this past year in the workplace and in society as a whole.