Welcome to 18 new JLP facilitators
The JLP is happy to welcome 14 new facilitators to the Prairies and Northwest-Territories region, and four to the Ontario/Nunavut region. The orientation session which was held from October 28th to November 1st brought some extra fun as participants as well as JLP members joined in the Halloween festivities.
Participants experienced activities from the Preventing Harassment and Violence in the Workplace workshop. They also practiced their new facilitation skills using the JLP learning kits on Respecting Differences and Anti-Discrimination and Understanding the Collective Agreement.
All enjoyed the experiential approach and are ready to deliver JLP workshops in their region. A few quotes from our new facilitators:
"JLP is an excellent personal growth and learning opportunity. I strongly encourage you to check out the next session in your region!" (Crystal Ackerman, Employment and Employment and Social Development Canada).
"Becoming a JLP Facilitator not only is rewarding to bring conversations back to organizations, but it is helping me become a better human being" (Amanda Holm, Correctional Services Canada).
"Every aspect of the JLP is thought out and created by design to make it a supportive, safe and inclusive environment".
Congratulations to our new facilitators and thank you to Program Officers, Rachel Besharah and Nathalie Duquette as well as Regional Field Coordinators Mindy Mackie and Jerry Chacko for contributing to the success of this orientation session.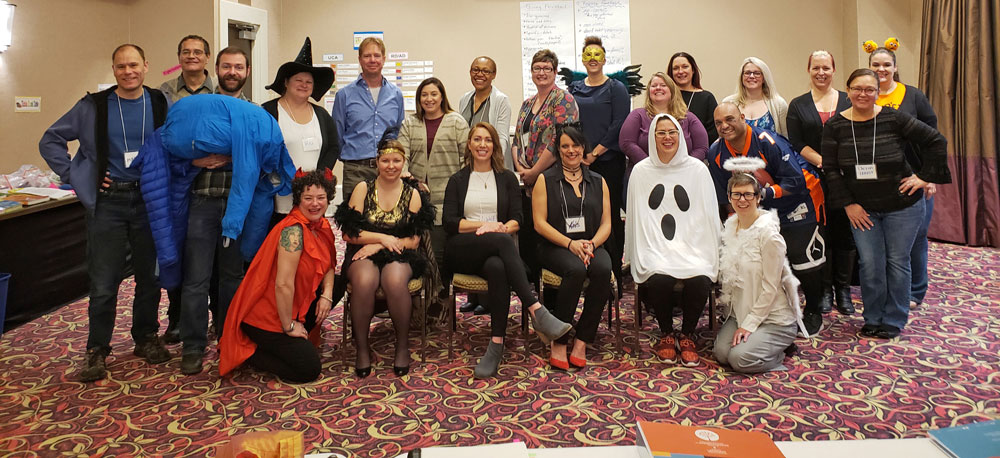 Halloween fun during the Orientations Session: Back row (L to R) - George Wenzel, Tom Rowe, Tom Conly, Rita White, Mike Spice, Tyla Tong, Jumoke Oli, Crystal Ackerman, Natalie Sitt, Karen Thibault, Stephanie Denis, Lenore Dilts, Angie Lantain, Delia Haist, Helen Treller. Front row (L to R) - Rachel Besharah, Mindy Mackie, Lynne Lariviere, Marie-Kristine Johnston, Amanda Holm, Jerry Chacko, Nathalie Duquette.