JLP welcomed 18 new facilitators to the British Columbia/Yukon region
The Joint Learning Program community of facilitators continues to grow.
Eighteen selected participants were guided through an Orientation Session November 26-30, led by JLP Program Officers Rachel Besharah and Nathalie Duquette. In-training facilitators practiced new facilitation and communication skills featuring three JLP workshops, namely Understanding the Collective Agreement as a demo and Duty to Accommodate and Respecting Differences and Anti-Discrimination in breakout sessions.
'The JLP Facilitator's Orientation equipped me with the tools to help participants grow in their learning' said Julia Hobbs from Service Canada (ESDC).
'Very worthwhile - a great professional development opportunity' remarked Anita Sangharafrom Correctional Services Canada (CSC).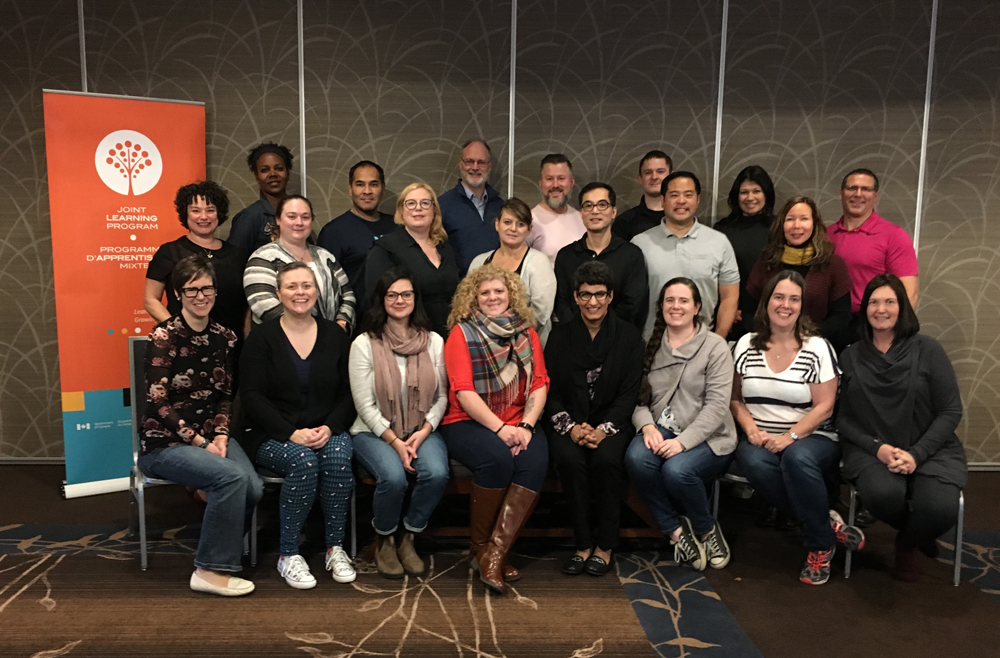 Back row (L to R) : Karla Backer (RFC), Efrain Andia Rodriguez, Leon Sadownik, Jon Hoogerdyk, Erik Smyth, Carla Bowden, Aaron Billesberger (RFC); middle row: Rachel Besharah (PO), Krista McAlduff, Melissa Madden, Jaki Allen, Kwong Wong, Hans Park, Anita Tosch; front row: Nathalie Duquette (PO), Marni Banks, Tamara Fast, Kendy Michaloski, Anita Sanghara, Julia Hobbs, Lorna Cameron, Erin O'Hara.
'Thank you for joining our dynamic team of amazing facilitators to improve working environments in the federal public service' -- Regional Field Coordinators, Karla Backer and Aaron Billesberger.