JLP takes part in the 2018 Atlantic Leadership Forum
The JLP hosted a kiosk at this year's Atlantic Leadership Forum which took place in Cornwallis, Nova Scotia on November 14, 2018. The event focussed on 'Exploring, Engaging and Evolving' and saw close to 200 participants from Service Canada in the Atlantic Region.
Many of the participants were JLP facilitators, including Angela Bissonnette who stopped by the JLP table. Angela became a JLP facilitator in 2012 and continues to be an advocate of the Program. She is very supportive of its mandate and enjoys promoting JLP workshops in her workplace at Service Canada.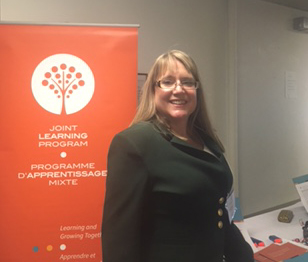 Angela Bissonnette, Service Canada
Atlantic Regional Field Coordinators offer a special thank you to Angela for her continued support to the JLP in the region.