April 17, 2013
New Memorandum of Understanding
The Joint Learning Program (JLP) signed a Memorandum of Understanding (MOU) with Service Canada, Quebec Region and the Canada Employment and Immigration Union.
The objectives of the MOU is to provide to the 1,450 employees in Service Canada across Quebec, a positive, healthy and respectful work environment. The MOU aims at delivering about 60 workshops to all employees in Quebec. Workshops on Understanding the Collective Agreement, Creating a Free-harassment Workplace, Duty to Accommodate, Respecting differences and Anti-discrimination, and Employment Equity will be offered.
Strategic partnerships allow a department to leverage JLP expertise and materials to provide important training to a large number of their employees. Strategic partnerships currently in effect address prevention and resolution of harassment, understanding the collective agreement, employment equity and the diverse workplace. For more information, contact the JLP Regional Field Coordinators in your region.
Union of National Employees Presidents' Conference
The Joint Learning Program (JLP) had a kiosk at the Union of National Employees Presidents' Conference on April 5. It was an opportunity for the JLP to chat with many JLP Facilitors who shared their experience with recent workshops delivery. The JLP also raised awareness about the Program and the possibility for local presidents to discuss with colleagues the possibilities of hosting workshops and becoming facilitators for the JLP. Over 200 participants attended the Conference.
Clinic in the Atlantic
The Atlantic's Joint Learning Program held a clinic on March 20 and 21. The theme was Creating a Harassment-free Workplace.
The participants had the opportunity to practice co-facilitating in a safe environment, network, meet new facilitators, and form new partnerships.
The session, facilitated by Regional Field Coordinators Wanda Thomas and Angela Leger, attracted 16 participants in Moncton, New Brunswick.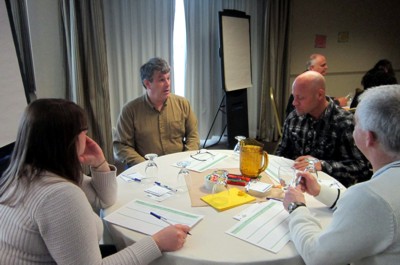 Facilitators at work
International Women's Day
International Women's Day (IWD) 2013 was celebrated on Friday, March 8, 2013 at the Holiday Inn Harbourview in Dartmouth, Nova Scotia. This year's theme was "The Gender Agenda: The Way Forward".
The IWD Organizing Committee is made up of volunteers of Federal Government Departments and the Public Service Alliance of Canada. Nova Scotia women from Federal Departments, Agencies, Crown Corporations, the Military, the Public Service Alliance of Canada and their retirees were invited to attend this year's event.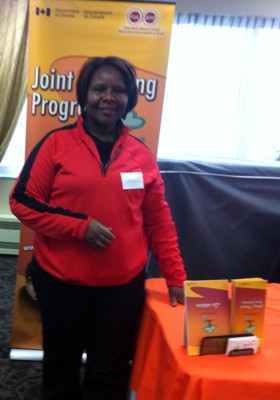 At the Joint Learning Program kiosk is
Florence Otuki an active Atlantic facilitator.