June 15, 2012
New Employees to the Joint Learning Program
The Joint Learning Program (JLP) is glad to announce the arrival of two new members to its team. Marcia Vergara, as Program Officer (Employer) and Jayne Billington, as Regional Field Coordinator, British Columbia and Yukon Region (Employer) joined the JLP on June 11. Marcia can be contacted at 613-560-2979 or by email at
vergarm@psac-afpc.com, and Jaynes's coordinates are 604-666-8217 and
billinj@psac-afpc.com.
Understanding the Collective Agreement Kit Updated
The Joint Learning Program (JLP) announces that the Understanding the Collective Agreement kit has been updated and is posted on the JLP website. The purpose of the update was to remove references to old collective agreements and articles. New sample articles have been included as well as ensuring accuracy of all sources related to article numbers.

At the time that the kit was updated the Technical Services (TC) and Border Services (FB) agreements had not been finalized. This should have no impact on the learning objectives of the workshop. The basic skills involved in doing the exercises in this workshop are transferable from one Collective Agreement to another.
National Aboriginal Day History
On June 21st, Canadians from all walks of life are invited to participate in the many National Aboriginal Day events that will be taking place from coast to coast to coast.

On June 13, 1996, the Governor General of Canada proclaimed June 21st to be National Aboriginal Day, offering Aboriginal peoples an excellent opportunity to share their rich, diverse cultures and history with family members, neighbours, friends and visitors.

First Nations, Métis and Inuit people will gather to celebrate and share with spectacular dance, song and theatrical performances both contemporary and traditional. National Aboriginal Day is an opportunity to learn more about Aboriginal people and their contributions to Canada. Share in the Celebration!
Joint Learning Program exhibits its initiative at APEX Symposium
The Joint Learning Program (JLP) was an exhibitor at the Annual APEX Symposium which was held on May 29th and 30th in Ottawa. Representatives of the JLP staff were on site to provide information to close to 750 public service executives registered at the Symposium. Comments were positive with visitors some of who were learning about the JLP for the first time.
Joint Learning present at the Public Service Alliance of Canada Atlantic School
The Joint Learning Program was present at the Public Service Alliance of Canada Atlantic School that took place May 23rd to 27th at St. Francis Xavier University in Antigonish, Nova Scotia.

The Atlantic School was a learning event for activists, stewards and others who represent members in the workplace.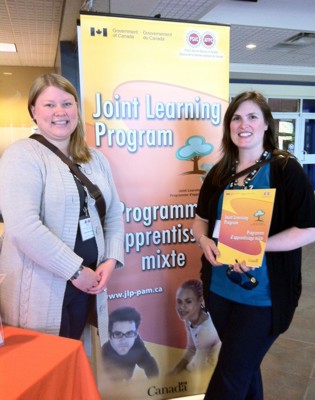 Caroline Morais Gregan (Union of Solicitor General Employees ),
on the left, is a facilitator with the Joint Learning Program.
Darlene Tait (Union of National Employee), on the right, said that
she was interested in becoming a JLP facilitator.
Atlantic Region hosts an Appreciation Event
On May 16th, 2012, the Joint Learning Program (JLP) Atlantic region hosted an appreciation event in Halifax, Nova Scotia, to thank JLP facilitators, workshop organizers, and strategic partners.

Denis Trottier and Mark Pecek, JLP Co-directors, participated in this event and took the opportunity to recognize six JLP facilitators for their outstanding achievements and contributions to the JLP. They are as follows:
Karen Beamish has facilitated over 30 JLP workshops since January 2007. She also provided support to facilitators from Parks Canada as they prepared to deliver Union-Management Consultation workshops as part of a joint learning program pilot.
Stéphane Breau has facilitated over 20 JLP workshops since February 2007.
François Cyr has facilitated over 20 JLP workshops since April 2008.
Jo-Anne Gallen has facilitated over 40 JLP workshops since February 2007.
Dwana Mbamalu has facilitated over 20 JLP workshops since January 2007.
René Robichaud was recognized for his role in expanding the borders of the JLP by initiating a partnership between the JLP and Labour Canada to pilot the delivery certain sections of JLP's Respecting Differences/Anti-Discrimination workshops in the Atlantic Region to clients in the private sector.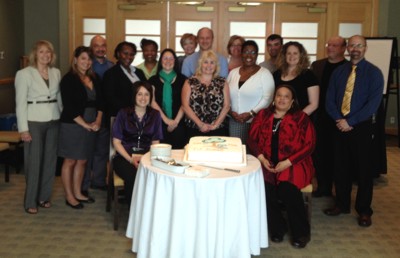 Participants with the co-directors and the regional field coordinators
Joint Learning Program at National Managers' Community Professional Development Forum 2012
The Joint Learning Program (JLP) was an exhibitor at the National Professional Development Forum at the Winnipeg Convention Centre on May 7th to 9,th 2012. The theme of the forum was 'The Leadership Journey: Managing in a New Era' and focused on managing in challenging times.

Denis Trottier, JLP Co-director (Employer), Carol Casey (Union) and Judy Freeman(Employer) JLP Regional Field Coordinators, Prairies and Northwest Territories Region, were on site to promote the JLP workshops as an additional tool to provide joint learning events and to improve labour relations in the Public Service particularly during times of change.

Elizabeth Dziedzk (Department of National Defence) and Linda Oremuch (Public Works and Government Services Canada) were the prize winners of the JLP daily prize draw.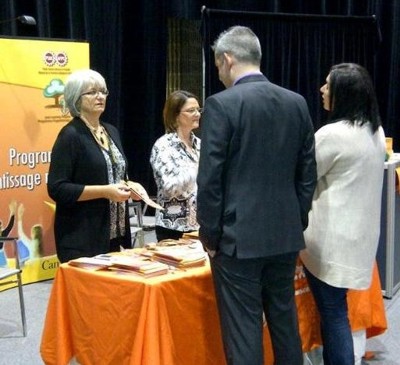 Judy Freeman, on the left, and Carol Casey greet visitors
The outgoing president of the Public Service Alliance of Canada praises the Joint Learning Program
John Gordon, who completed his last term as president of the Public Service Alliance of Canada at the National Convention in early May, had praise for the Joint Learning Program (JLP) in his President's report to 2012 Triennial PSAC Convention. Here is one excerpt from the his report dealing with the Program:

In April 2010 the program achieved an important milestone having delivered its 1,000th workshop since it began delivering workshops again in January 2007. The program is now well on its way to achieving its next milestone having delivered 1,700 workshops as of February 1, 2012. This translates into 3,400 facilitation opportunities; over 3,400 organizers have introduced the JLP into their respective workplaces and approximately 34,000 PSAC members and managers have participated in one of the program's workshops. These staggering figures testify to the program vitality and reputation and would not be possible without the participation of thousands of PSAC activists who promote the program in their workplaces, volunteer to become facilitators and help organize workshops for their colleagues.

The JLP had also a kiosk at the Convention which was held from April 29th to May 4th, in Ottawa.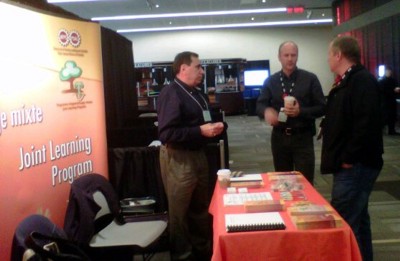 Alex Roussakis, Regional Field Coordinator, National Capital Region,
on the left, and Mark Pecek, in the middle, with a visitor to the JLP kiosk
Last Duty to Accommodate Kit Clinic in the Prairies and Northwest Territories Region
The Prairies and Northwest Territories Region hosted its third Duty to Accommodate (DTA) Workshop Clinic in Regina, on April 25th and 26th. The participants were: Renée Auramenko, Paul Daigneault, Eileen Elliott, Kim Hogg, Stephanie Lawrek, Trevor Sinclair and Chelsea Sweeney. A total of 33 facilitators in the region participated in all three DTA Workshop clinics.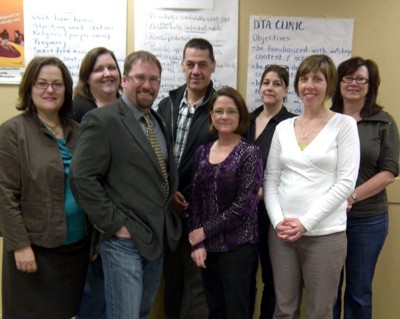 The DTA clinic participants in Regina
National Capital Region Welcomes New Facilitators
Linda Iezzi and Alex Roussakis, National Capital Regional Field Coordinators, welcome the following new JLP facilitators: Erika Lefebvre, Carol Noel, Melvin Musqua, Laura Cluney, Duane Perkins, Dave Savard, Laure Levesque, Mary Cuccaro, Jackie Foster, Theresa Bates, Margot Gallant, Priya Aggarwal, Sarah Bautista, Suzanne Hoffberg, Andy Ip and Teresa Jean. The National Capital Region's Facilitator Orientation Session was held from April 16th to the 20th, 2012, in Ottawa.

The NCR Orientation participants in Ottawa.