February 13, 2013
National Capital Region Networking Breakfast
The National Capital Region (NCR) held its annual Networking Breakfast on February 1, at the Public Service Alliance of Canada head office. This event allowed organizers and facilitators to network together in an informal setting. The Co-Directors were present at the event and addressed the group on the importance and benefits of the Joint Learning Program (JLP) in the workplace. The Regional Field Coordinators had an opportunity to thank everyone for all their efforts in making the program a success in the NCR and took this time to recognize Zarina Khan, one of the NCR JLP facilitator, who has delivered over 10 workshops and is an ambassador of the Program. Two JLP facilitators, Shelley Adamsand Zarina Khan, made a presentation on the importance of preparation before a workshop and shared best practices and lessons learned with the participants.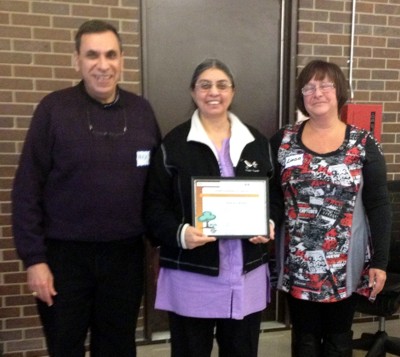 Zarina Khan receives from the Regional Field Coordinators,
Alex Roussakis, on the left, and Linda Iezzi, on the right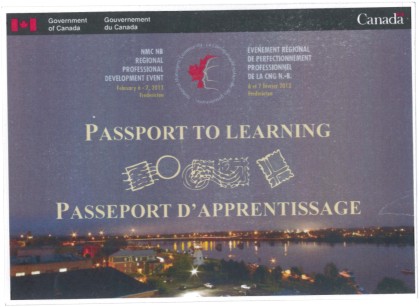 Joint Learning Program Atlantic Participates in National Managers' Community Regional Professional Development Event
On February 6 and 7, 2013, Joint Learning Program (JLP) Atlantic participated in the Marketplace at the New Brunswick National Managers' Community Regional Professional Development held in Fredericton, New Brunswick.
The Regional Field Coordinators thank Nancy Akerley, JLP Facilitator, who assisted in promoting the JLP at this event.
During the event, JLP Atlantic welcomed visits from managers, youth network representatives, JLP facilitators, organizers, and participants of JLP workshops who visited the kiosk to learn about the Program and have their passports stamped.

Black History Month
Every year, Canadians are invited to participate in Black History Month festivities and events that honour the legacy of black Canadians, past and present.
Canadians take this time to celebrate the many achievements and contributions of black Canadians who, throughout history, have done so much to make Canada the culturally diverse, compassionate and prosperous nation it is today. During Black History Month Canadians can gain insight into the experiences of black Canadians and the vital role this community has played throughout our shared history.