July 10, 2013
Orientation Sessions in British Columbia/Yukon, Quebec and in the Prairies/Northwest Territories
Facilitators' Orientation Sessions are scheduled to take place in Vancouver, September 9 to 13, and in Montreal and Winnipeg, October 28 to November 1.
When you become a Joint Learning Program (JLP) Facilitator, you will join a community of more than 1,500 union and employer facilitators across Canada who have participated in the JLP since 2002. JLP facilitators work in many different kinds of jobs and represent almost all federal government departments. Some hold union positions, others are managers and executives, all of whom are connected by a common interest, working collaboratively to inspire positive change in their workplace.
Through their involvement with the JLP, many facilitators find that they experience personal growth and a renewed commitment to their public service careers. They develop new skills and form new friendships. Others add that they have experienced great satisfaction from successfully co-facilitating learning events which have created a space for dialogue among their peers.
To register, please refer to the Registering to an Orientation Session page on the JLP website. For more information, please contact the Regional Field Coordinators in British Columbia/Yukon, Karla Backer and Jayne Billington, in Quebec, Carolle Lajoie and Manon Bouchard, or in the Prairies/Northwest Territories, Carol Casey and Judy Freeman.
Promotional Workshops in the British Columbia and Yukon Region
The British Columbia-Yukon Region in collaboration with the Pacific Federal Council and Service Canada delivered workshops every Wednesday in June as part a summer learning series which extends to the end of July. The series' goal is to offer the experience of Joint Learning Program (JLP) workshops to individuals who might not otherwise have an opportunity to attend in their own work group, and to promote the program to departments that have not yet experienced the transformation JLP workshops can bring to the workplace. The invitation to attend was extended to all federal Public Service unionized employees and their managers within the Core Public Administration, resulting in a total of 113 registrations so far for the series.
Orientation Session in Ottawa - New Facilitators under a Memorandum of Understanding with Correctional Services of Canada
17 facilitators have recently been welcomed to the JLP Facilitators' pool under the Memorandum of Understanding (MOU) with Correctional Services of Canada (CSC). They are Isabelle Breton, Michaela Hay, Line-Alice Guibert-Wolff, Jay Stoneman, Anne Hargrave, Lynn Dufresne, Sarah Szmidt, Jack Botwinik, MaryAnn Fraser, George Asiamah, Sheri Robinson, Melanie Kirkey, Eric Worth, Nina Thomson, Sylvain Lefebvre, Derek Pottier and Michael Laughlin. Ranjeet Massey and Melanie Teixeira have been also welcomed in the Health Canada facilitators' pool.
The orientation session was held in Ottawa from June 17 to 21, under the facilitation ofMarcia Vergara, and Rachel Besharah, Joint Learning Program Programs Officers.
The MOU with CSC, in force since August 2012, aims to deliver the Creating a Harassment-free Workplace to all their employees. The MOU with Health Canada, Ontario Region, addresses Employment Equity, Respecting Differences and Anti-discrimination, Understanding the Collective Agreement, as well as Creating a Harassment-free Workplace.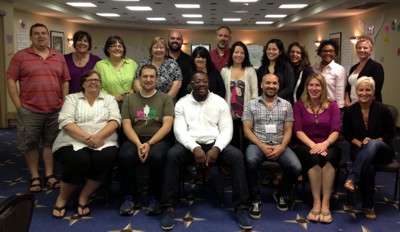 The participants
Public Service Alliance of Canada National Capital Region Health and Safety Conference
The Joint Learning Program had a booth at the Public Service Alliance of Canada National Capital Region Health and Safety Conference held June 8th and 9th, in Ottawa.