November 8, 2011
Program Officer position (Employer) posted on Publiservice
The Joint Learning Program wants to advise you that the job notice for the Program Officer (Employer) position at the National Office, has been posted. Interested parties must apply through Publiservice at https://jobs-emplois.psea-lefp.publiservice.gc.ca/cli101.do?id=118777&lang=en. The competition closes on November 18, 2011.
The Joint Learning Program at the Labour Relations Symposium
The Joint Learning Program (JLP) was an exhibitor at the 2011 Labour Relations Symposium which was held in Saint-Sauveur, Québec from November 1 to the 4.Carolle Lajoie and Manon Bouchard, Regional Field Coordinators, Quebec Region, along with Mark Pecek, JLP Co-Director (Union) were on site to greet participants and promote the JLP as a tool to improve labour relations in the Public Service.
The Labour Relations Council's objective was to make the Symposium a learning event that addressed the current and future learning needs of the federal labour relations community. It was also an opportunity for networking, learning about the latest trends, sharing best practices and meeting colleagues.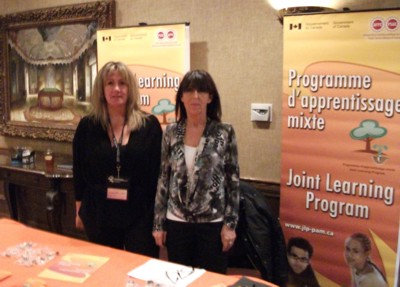 Manon Bouchard and Carolle Lajoie