October 3, 2013
Networking event hosted by the Joint Learning Program National Capital Region
Linda Iezzi and Alex Roussakis, the Joint Learning Program (JLP) National Capital Region (NCR) Field Coordinators, would like to invite you to a event which will be held on November 1, 2013 at the Public Service Alliance of Canada Building, located at 233 Gilmour Street, in Ottawa, in the J.K. Wylie boardroom. The purpose of the event is to meet each other, learn about the most recent developments of the JLP, re-establish contact and have a conversation as to how we can better promote the JLP in the NCR. The event will start at 8:30 a.m. and will end at 10:30 a.m. If you plan to attend, please confirm your presence no later than October 18, 2013, to Linda Iezzi at iezzil@psac-afpc.com or Alex Roussakis at roussaa@psac-afpc.com.
Orientation Session in Vancouver - New Facilitators
18 facilitators have been recently welcomed in the British Columbia/Yukon facilitators' pool.
Regional Field Coordinators Karla Backer and Jayne Billington welcome Anita Barr, Kashmir Bhandal, Mario Biello, Sandy Chatha, Goretti Day, Jeanine Fynn, Inessa Galperin, Edward He, Nora Johnson, Nicole Kwiatkowski, Ruth Morrison, Nancy Noel, Nick Panesar, Bill Pleming, Kelly Sidhu, Nagham Taha, Nancy Turcotte andTerry Velichko.
The orientation session was held in Vancouver, from September 9 to 13 under the facilitation of Rachel Besharah and Marcia Vergara, Joint Learning Program Program Officers.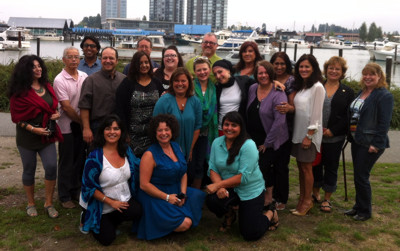 The participants
The Joint Learning Program innovates at the National Joint Council Seminar
Dialogue –based facilitation is a new approach for the National Joint Council (NJC) Seminar. The Joint Learning Program demonstrated its learning technique in facilitating three workshops with NJC Seminar participants which took place in Montreal on September 18 and 19.
What is consultation?
This optional training/information session provided an opportunity for participants to discuss the desirable elements for a definition of consultation and to develop a common understanding of the key conditions for meaningful consultation.
Fulfilling our Duty to Accommodate
The purpose of the workshop was to familiarize participants with the meaning and legal framework of the duty to accommodate and to develop a common understanding of the roles and responsibilities by applying the learning to a general pathway to accommodating employees.
Workplace Harassment
This workshop allowed participants to develop a solid understanding of what constitutes harassment in the workplace. Participants reviewed real case scenarios to determine whether or not harassment has occurred. They also compared their findings to arbitrator's decisions.
Rachel Besharah, Marcia Vergara, Bruce Roy and Élise Lemoine were on site to facilitate these learning activities.
Upcoming Activities
Please stay tuned to know more about these upcoming activities:
A Joint Learning Program kiosk at the Public Service Alliance of Canada National Capital Region Council Meeting on October 5.
Two Orientation Sessions in Montreal and Winnipeg from October 28 to November 1.
A Kit Clinic in Richmond, British Columbia on October 29.