December 2, 2011
International Day of Persons with Disabilities
On December 3, 2011, the International Day of Persons with Disabilities will be commemorated around the world. The observance of this day serves to focus on issues related to the inclusion of persons with disabilities, both as beneficiaries and agents. The theme for 2011 is Together for a better world for all: Including persons with disabilities in development.
Persons with disabilities make up an estimated 15 percent of the world's population, and this day is our opportunity to recognize and celebrate their valuable contributions to all aspects of society.
Busy Day for the Joint Learning Program in the National Capital Region on November 22
The Joint Learning Program National Capital Region had two different kiosks at two different Public Service Alliance of Canada events in Ottawa on November 22.
Alex Roussakis, Regional Field Coordinator (Employer) was on site for the Stewards' Symposium at the Hampton Inn. Linda Iezzi, Regional Field Coordinator (Union), staffed the kiosk at the Health & Safety National Conference at the Marriott.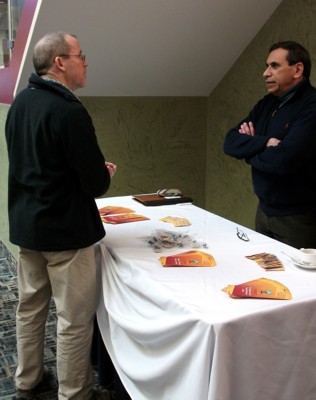 Alex Roussakis with an interested visitor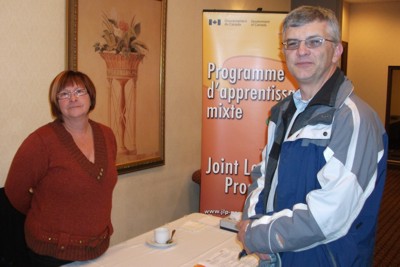 Linda Iezzi with Luc Pomerleau, National Resources Officer
at the Canada Employment and Immigration Union
Trans Day of Remembrance Statement
November 20 marks the Trans Day of Remembrance. Transgender and transsexual people are often victims of discrimination, harassment and violence in the workplace, in their communities and at school. This day gives us a chance to mourn losses and advocate for change. Read about the representations made by the Public Service Alliance of Canada to advance the cause of lesbians, gays, bisexuals and transgenders.
Joint Learning Program Ottawa/Gatineau Network Breakfast
On November 17, 30 facilitators and organizers attended the annual Ottawa/Gatineau Network Breakfast which was organized by the Regional Field Coordinators, Linda Iezzi and Alex Roussakis. Brenda O'Neill shared her experience in facilitating a Union-Management Consultation workshop and Nathalie Audet talked about how her experience facilitating the Duty to Accommodate (DTA) pilot's has been acknowledged positively in her department.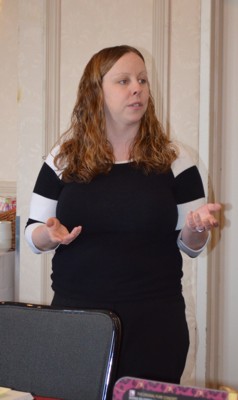 Brenda O'Neill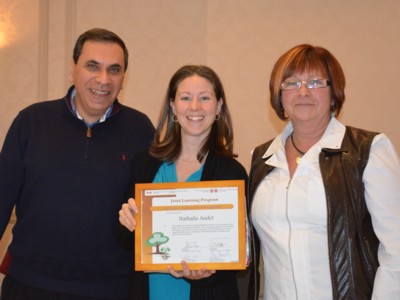 Nathalie Audet (in the middle) received a token of appreciation from
Alex Roussakis (on the left) and Linda Iezzi (on the right) for her work
during the DTA pilot workshops.