May 2, 2013
Promotional Workshops in the British Columbia and Yukon Region
The British Columbia-Yukon Territory (BC-YT) Region in collaboration with the Pacific Federal Council will deliver a series of workshops that will feature a topic every Wednesday during the month of June. The goal of this series is to provide the opportunity to experience the Joint Learning Program style of learning to individuals who might not otherwise have an opportunity in their own workgroups. All federal Public Service unionized employees and their managers within the Core Public Administration may attend these workshops.
The workshops will be held as follow:
June 05: Understanding the Collective Agreement
June 12: Duty to Accommodate
June 19: Creating a Harassment-Free Workplace
June 26: Duty to Accommodate
Those interested in participating in any of these events, please contact Jayne Billington, Regional Field Coordinator (Employer), at 604-666-8217 or billinj@psac-afpc.com, Karla Backer at 604-666-7799 or backerk@psac-afpc.com.
Orientation Session in Gatineau - New Facilitators
Quebec and National Capital Regions recently welcomed 13 new facilitators. Manon Bouchard, Carolle Lajoie, Linda Iezzi and Alex Roussakis, Regional Field Coordinators are welcoming new facilitators in their teams: Marjorie Toussaint, Michel Fortin, Daniel Rey, Lise Barriault, Sylvie Panneton, Shirley Taylor, Priscilla Da Graca, Dominique nadia Villemaire, Alain Houde, Mathieu Brosseau, Marie-France Sanschagrin and Nathalie Dugal. Anne Roy and Pierre Millette, two Joint Learning Program National Office employees, also where among the attendees.
The facilitators' Orientation Session was held in Gatineau, from April 15 to 19. The session was facilitated by Marcia Vergara, Monique Bernier and Bruce Roy.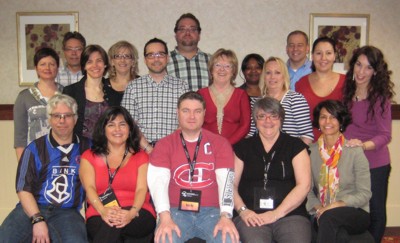 The participants
Joint Learning Program at the National Conference on Health and Safety
The 2013 Public Service Alliance of Canada National Conference on Health and Safety with the theme "Mental Health and Work - We are all affected" was held from April 12 to 14, 2013 in the Montreal region.
Quebec Regional Field Coordinators, Manon Bouchard and Carolle Lajoie, in collaboration with Danielle Dubuc and François Dégardin, JLP Facilitators, held a promotional booth. In connection with health and safety, JLP kits on Creating a Free-harassment Workplace and Duty to Accommodate: Building an Inclusive Workplace have attracted much interest.
More than 300 people attended the conference.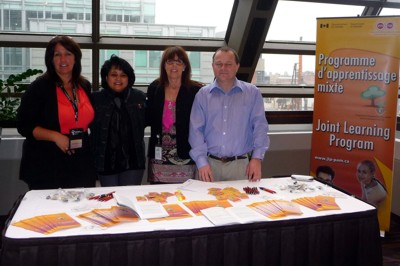 Manon Bouchard, Danielle Dubuc, Carolle Lajoie and François Dégardin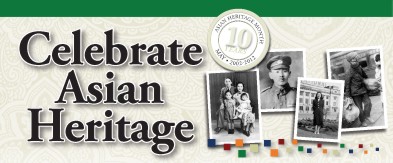 May is Asian Heritage Month
This acknowledges the long and rich history of Asian Canadians and their contributions to Canada and the world. It also provides an opportunity for people across the country to reflect on and celebrate the contributions of Canadians of Asian heritage to the growth and prosperity of Canada.
Asian Heritage Month has been celebrated in the United States since 1979. Over the past decade, many Asians in Canada have begun to celebrate their heritage during the month of May. In May 2002, the Government of Canada signed an official declaration to designate May as Asian Heritage Month.
According to Statistics Canada, the 2006 Census found that more than 5 million or 16% of Canadians are visible minorities, with South Asians and Chinese accounting for almost half of this number.
You are invited to take part in the events that honour the legacy of Canadians of Asian heritage. It is a time to participate in festivities across the country that celebrate the many achievements and contributions of Canadians of Asian heritage, who, throughout history, have done so much to make in the development of our communities.