September 1, 2011
Public Service Employee Survey
The Public Service Employee Survey has been conducted every three years since 1999. It provides employees the opportunity to anonymously voice their opinions on their leadership, workforce and work environment. It is conducted by Statistics Canada on behalf of the Office of the Chief Human Resources Officer.
The survey results enable managers and employees to discuss the strengths and areas for improvement in people management at all levels of their organization. The results also feed into deputy heads' performance assessments. This is an opportunity for the Joint Learning Program to offer its workshops to organizations that want to improve or maintain certain practices related to labor relations.
The 2011 Public Service Employee Survey will take place from August 29 to September 30, 2011. Take the time to fill it out and encourage your colleagues to do so. Your opinion matters!
August 30, 2011
The Joint Learning Program at the PSAC Atlantic Triennal Convention
Wanda Thomas and Angela Léger, the Joint Learning Program (JLP) Atlantic Regional Field Coordinators, would like to recognize the JLP Facilitator and Organizer presence at the Public Service Alliance of Canada (PSAC) Atlantic Triennial Convention held in St. John's, Newfoundland from June 23 to 26, 2011. There were over thirty JLP Facilitators who participated in this convention.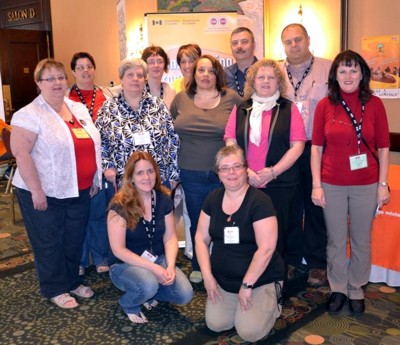 Among facilitators at the PSAC Atlantic Triennial Convention were
(from left to right and back to front) Melinda Scott, Stephanie Ehler,
Angela Léger, Keith Parsons, Jim Hondas, Donna Rodgers-Grouchy, Anne Little,
Wanda Thomas, Debi Buell, Anna Goguen, Beryl MacNeill and Sandy Harquail.